Almost every technical department has drastically changed its operations in the last decade. And as technology advances and a pandemic alters how workers interact, IT must be proactive in allowing the organization to meet these new problems.
The job of the CIO must change. We must assist companies in meeting the new challenges of our changing environment, which includes improving customer outcomes, uncovering hidden value, and fighting inequity while protecting our data and allowing a remote-first workforce.
Strategies for CIO-friendly SaaS Operations Management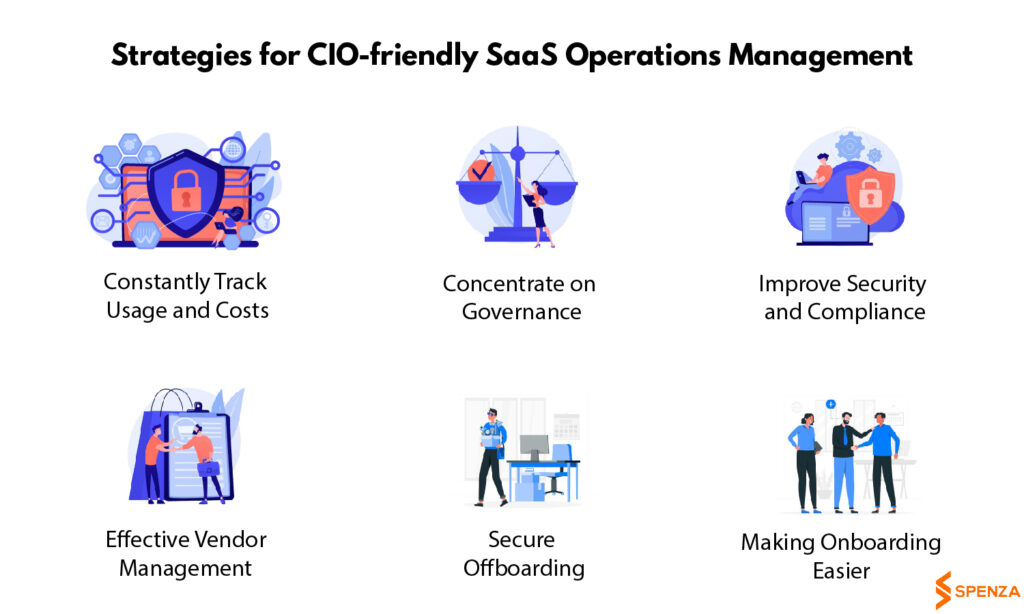 Most organizations face a long and challenging transition from on-premise software to SaaS. Given the numerous benefits (and possibilities) that SaaS brings, adopting the technology is critical – but so is understanding how to manage the growing operational issues that organizations frequently face. Here are the top nine strategies for adopting and mastering CIO-friendly SaaS operations management:
1. Constantly Track Usage and Costs
It is simple to launch new services with the touch of a button. This might result in unregulated consumption and exorbitant cloud expenses. Monitoring use, right-sizing instances, and removing zombie assets are critical for getting the most out of your SaaS operations. You must use a consistent strategy to define and enforce appropriate limits and ensure that all stakeholders understand their roles.
2. Effective Vendor Management
Having complete SaaS visibility is not the same as managing your providers properly. There is a distinction between your applications and the companies that offer them. This distinction makes subscription payments and handling SaaS renewals more complicated than knowing when a particular app renews.
Renewal management is effective vendor management. Because many applications bill every month, the cash flow is predictable. However, sellers frequently provide discounts for yearly memberships, and some even require it.
Each company's vendor management procedure is unique. It may be more formal in specific organizations, requiring requests to contain a business purpose and for each level of the process to be documented for compliance. Assume you aren't quite there yet. In such an instance, having a comprehensive picture of all your suppliers, renewal information, spending, and knowing who is responsible for the vendor connection, might suffice.
3. Concentrate on Governance
It is easy to overlook governance considerations when it comes to SaaS. Because governance duty is complicated and dispersed, particularly in large businesses, you must grasp governance obligations across all touchpoints. Good management may guarantee that company procedure are carried out consistently, risks are minimized, and stakeholder interests are thoroughly considered when making choices.
4. Improving Security and Compliance
While SaaS technologies might help your organization achieve its objectives more effectively, they can also bring security risks if not adequately secured. Most organizations begin with no security rules or processes and deal with issues as they arise. Because corporate teams frequently choose their own SaaS apps, security might fall by the wayside while focusing on the user experience and the app's capacity to meet the requirement directly. If safety is on the priority list, it usually comes last.
You can't put off thinking about security until something horrible happens. Ad hoc and non-existent security rules can expose you to significant security threats. On the other hand, some organizations deploy esoteric security methods to protect SaaS solutions that aren't even slightly user-friendly and are consequently frequently avoided by employees. For example, some firms require customers to change their passwords regularly for no apparent reason.
Sound systems and guardrails should be used. Remove human error from the equation. It is preferable to have fewer vectors and to harden these defenses. An accurate SaaS management method involves a systematized security plan.
5. Have the Right Skills on Board
In many aspects, SaaS differs from on-premises in terms of obligations. Unlike on-premises operations, where the IT team is responsible for practically all responsibilities, they are frequently divided between the team and the provider under a SaaS model. Knowing what and how your vendor performs each operational function is critical for determining the capabilities you require on board to achieve optimum outcomes while minimizing functional discrepancies.
6. Secure Offboarding
Offboarding workers effectively is also crucial for any organization. It contributes to developing a security and compliance culture while protecting you from responsibility. However, the process of offboarding an employee is frequently haphazard or ignored entirely.
You cannot risk exposing corporate or consumer data or exposing security vulnerabilities. Developing closely regulated offboarding processes is one of the most excellent methods to avoid this.
An effective offboarding strategy reduces the likelihood that your firm will be subject to this assault significantly. Credential allocation and privileged access control may easily fall through the cracks if processes are not explicit, especially during offboarding. By getting this correct, you can protect the security of your organization.
7. Make Your Application Landscape SaaS Ready
Success with SaaS requires more than just using a few cloud-based applications. Assume you want to see a return on your SaaS investments. In such a situation, you must guarantee that your present application landscape is SaaS-ready, from ensuring that your systems are cloud-interoperable to developing the appropriate APIs for smooth communication and integration. Access control, user lifecycle management processes, and security are also required.
8. Making Onboarding Easier
Employee onboarding is crucial for every organization. It contributes to the development of culture and happy employees, which results in a productive team and organization. And executing it correctly is critical for security and compliance.
Onboarding operations should be automated as much as feasible. Many onboarding-related duties are repetitive and routine, so there's no reason a human should be in charge of them. They might not always be at the top of an employee's to-do list and can easily slip by for days or weeks—or never get done at all.
You can maintain the process automated and simplified by implementing automation. We advocate that businesses invest in a single product that simplifies the onboarding process, especially regarding SaaS technologies.
Beyond expediting technology onboarding, ensuring that non-automatable tasks and duties are clearly defined and assigned to the relevant team members from the start. You can check in to ensure that all action items are done on time. This way, everyone understands their role and nothing falls through the cracks.
9. Recognize the Significant Differences Between On-premises and SaaS Operations
Because SaaS differs from typical on-premises operations, you must be familiar with the changes, which include everything from consumption models and access mechanisms to licensing restrictions, compliance requirements, payment structures, and cost and use optimization.
Conclusion
A specialized strategy and the correct tools are required for success in a modern IT environment loaded with SaaS apps and remote workers. In conjunction with a SOM platform (or SMP), a SaaS operations management strategy enables IT to establish and enforce SaaS administration regulations. Once implemented, these methods and platform capabilities help IT and other departments' day-to-day operations by reducing time, increasing productivity, and ensuring data security.