Over the last few years, the use of software-as-a-service (SaaS) tools has become increasingly popular. Research suggests this is primarily because of reduced development costs and delivery time. And it is only expected to grow.
Gartner estimates that the worldwide IT spending is expected to be worth over $4.4 Trillion in 2022. Today, most companies that have over 100+ employees use more than 50 SaaS tools as well.
However, there is also a need for controlling company expenditure on such software. One of the ways to do so is by negotiating contracts that fulfil your specific needs.
Here, we will talk about negotiating SaaS contracts, and how spend management software can help with the process.
Why is it Necessary to Negotiate Contracts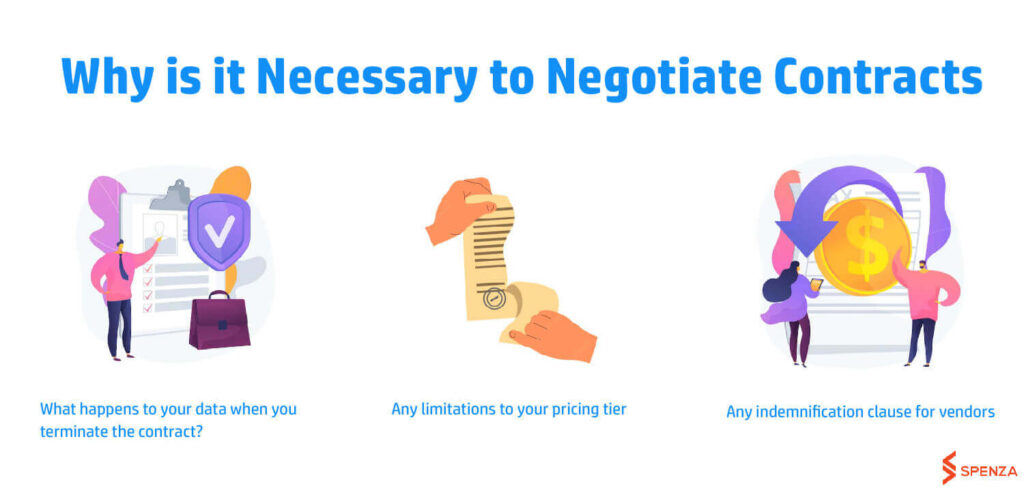 Negotiating SaaS contracts require you to know things like:
What happens to your data when you terminate the contract?

If there are any limitations to your pricing tier?

If there is any indemnification clause for vendors
The truth is SaaS spending can ramp up your company's expenses by a huge margin. Especially if they're not monitored regularly.
Gartner predicts that IT spending in 2023 is expected to reach over $600 billion. The same research reveals that a third of that amount will be spent on SaaS tools. This spending is expected to increase year-on-year by 23%.
Here are some of the key reasons why it's important to negotiate your SaaS agreements :
1. Company Budget Wasted :
By not keeping up with your SaaS usage, you'll be spending blindly on a plan that you probably don't need. So, you'll likely overspend your budget too. You need scalable pricing so that you can upgrade or downgrade as necessary, without worrying about termination costs.
Consider this, Henry is the IT manager at a company called ABC Tech. He is responsible for managing SaaS software acquisition and renegotiating old contracts.
Keeping up with the company budget is one of the main objectives he has to achieve. But, he has to keep the pricing scalable so that the company's needs are met without worrying about termination costs.
2. Plans That Don't Meet Your Needs :
The way a SaaS company prices its models might not meet your needs. You might need more accounts, devices, or accessibility for your team in the long run. Look out for any additional fees, as well as changes in SLAs. Any changes in data storage limits, uptime or data sync frequency that wasn't originally agreed to may need a redoing of the contracts.
For this reason, you need to focus on service agreements to make SaaS contract negotiation simpler.
3. Licenses That Make Your Work Easier :
Getting a ready-made license that works for you under the budget for SaaS companies is a rarity. So, it's better that you discuss the features you need and don't, as well as the extent of the agreement, and acquire a model that's tailored to your workflow.
Top 5 Challenges SaaS Providers Face During SaaS Contract Negotiations
A SaaS contract agreement takes a long time to sort out. There are a lot of details that both parties need to agree on. And all the while, they need to protect their interests as well.
Let's take a look at some of the most important challenges that SaaS providers face during contract talks :
1. Involvement of Multiple Stakeholders
It's easy to overlook the different parties that a SaaS agreement can end up affecting. The workforce can be easily affected by the terms negotiated. This can include people from different departments being factored into the negotiations. The legal team will need to ensure that the company is safe by reviewing the contracts.
2. Missing Important Details
Factors like the start date, end date, and the details of the custom license are at the core of the discussion. But, things like payment dates, methods, and loyalty bonuses are also up for debate. These can be a great way to better your relationship with the SaaS company for the long term.
You can avoid missing out by having multiple people review the contract. When everyone signs off on the arrangement, you can be assured that all parties are satisfied from your end.
3. Lack of Transparency
Heading into the SaaS agreement without a clear idea of what it is that the company needs is a major problem during negotiations. It's even more important to be able to convey this important information accurately. For instance, if only one person knows the negotiation terms, they may not be able to talk to team members easily to finalize the contract.
In turn, you're likely to not be satisfied with the terms you end up with.
4. Data Security & Vulnerabilities
Protecting the data of your vendors is your responsibility. Any mistake here can lead to a huge loss of brand value and trust. To ensure that customer data is protected, you must double-check privacy terms. It's important that you get it right during the initial negotiations.
This is because the privacy terms won't be updated very regularly. In turn, this can lead to issues like intellectual property infringement and data breaches. Know what your service level agreement says when it comes to additional costs, the renewal process, and having access to confidential data.
5. Slow Negotiations
Legal teams have to check several things before signing a deal. There is a lot of paperwork – and you can have PDFs, shared drives, emails, word docs that have been worked on, and even communications over other channels like Slack.
Combining it all together can take a while, and clunky workflows do not help speed up negotiations. Having a digital tool that helps you automate the contract negotiation process can save you valuable time. And this is where contract management software becomes so useful.
How to Negotiate SaaS Contracts Using SaaS Contract Management Software
Using Word for contract management isn't ideal – primarily because it's not the collaborative tool you need. Revisions can become clunky, have a lot of back and forth, and create unnecessary delays.
Using SaaS contract management software is the best way to take care of contract negotiations smoothly. For one, you can automate the SaaS vendor agreement and save time.
You can also store, edit and communicate the details of your contract to the other team easily.
Finalize agreements online by using electronic signatures.

Access the data anytime, anywhere.

It's a single place to manage all vendors

A transparent structure for easy collaboration

You can even automate the contract cycles to ensure easy renegotiations should there be no major changes.
As a result, the workforce will be able to focus their attention on more important revenue-generating events. And, will also be able to work more productively.
Use Spenza to Make Negotiating SaaS Contracts Easier
Eliminate bottlenecks using an automated system to help streamline your workflow. Easily streamline communication, lessen delays and ensure proper licenses – in no time.
Spenza – can help automate your contract renewals so that you don't have to worry about SaaS subscription management. You will be informed about upcoming renewals and will be able to monitor all details of the arrangement at a glance.
So, you can bid adieu to the days of lengthy negotiations with unsatisfactory results for good. Get started with a better way to agree on SaaS contracts today – contact us now to get started.